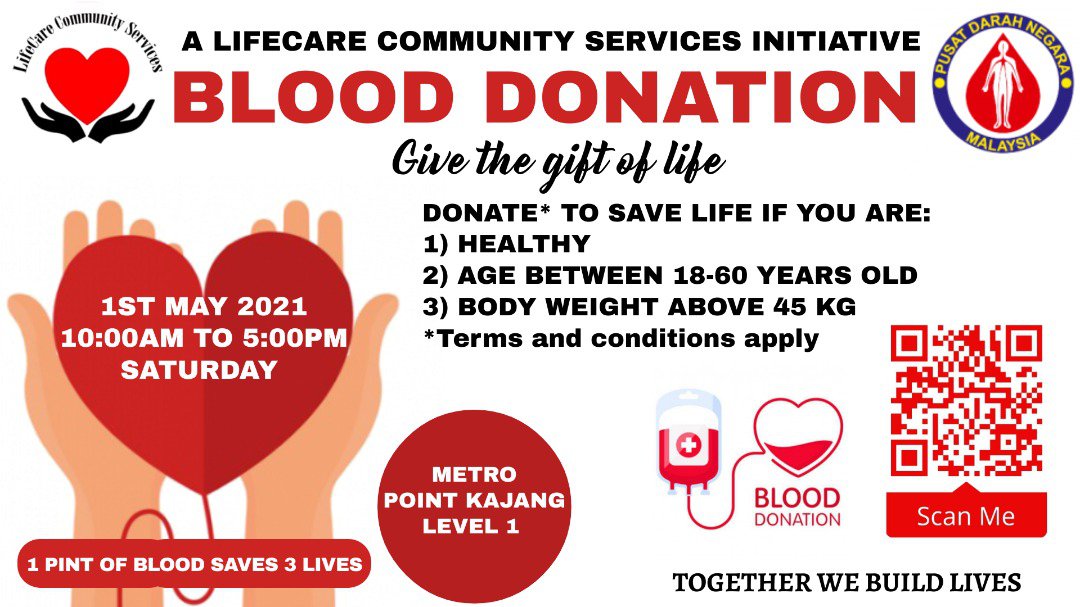 1 MAY 2021
10 – 5 PM
LEVEL 1, METRO POINT KAJANG
Dear KAOG members
Coming 1 May 2021, from 10-5pm Lifecare Community Services (LCCS) , KAOG has organised a Blood Donation Drive at Metro Point Kajang. During this time of pandemic, the Blood Banks are in need of blood supply to manage the day-to-day requirements of the hospitals nationwide. There is a dire need for supply.
While there may be concerns on donating blood during a pandemic, please be assured that all SOPs will be adhered to at the donation venue from point of registration to the donation. Our patron's safety and health is of top priority and we are certain that the staff from blood bank and the volunteers from KAOG would make this a pleasant and safe experience for you. So do come and be part of LCCS, KAOG's initiative to "Build Lives Together" by sowing into the needs of the community.
Come on and donate a pint of blood and safe three lives!
You are good to donate if:
You are healthy
Are 18-60 years of age
Above 45 kg
Have had sufficient sleep (5hrs) and have no medical condition(s)
Have eaten before donation
Not involved in any high risk activities that may result in transmission of disease
Your last donation was three months ago
Not pregnant, breastfeeding or menstruating
Have not been in the UK for more that 6 months between 1980-1996.
Have not lived in Europe for more than 5 years
Do bring your original ID to the donation venue.
You may register for the blood donation at: https://forms.gle/rCeXFLHXmiSayqkJ7
THANK YOU VERY MUCH FOR YOUR SUPPORT!!!
LCCS Organising Committee
For inquiries contact:
Roland: 0192866338 KC: 0123930647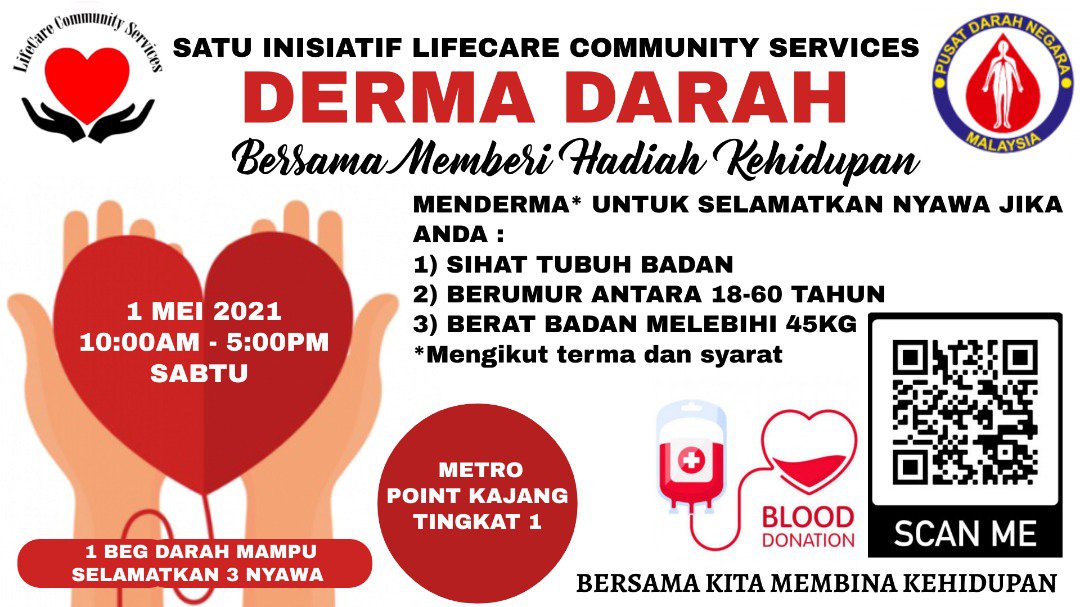 1 MEI 2021
10 – 5 PM
TINGKAT 1, METRO POINT KAJANG
Para ahli gereja yang dihormati,
Pada 1 Mei 2021, dari 10pagi – 5 petang Lifecare Community Services (LCCS) , KAOG menganjurkan satu Kempen Derma Darah di Metro Point Kajang. Dalam waktu pandemik ini, Bank Darah Negara sangat memerlukan bekalan darah untuk memenuhi keperluan di hospital-hospital di seluruh negara.
Kemungkinan timbulnya kekhuatiran untuk menderma darah pada waktu pandemik ini, kami memastikan segala SOP akan dipatuhi dari waktu pendaftaran sampai ke waktu menderma darah. Keselamatan para penderma adalah diutamakan dan staf dari bank darah dan para sukarelawan akan memastikan supaya anda mengalami satu pengalaman yang baik dan selamat sewaktu pendermaan darah. Oleh itu, datanglah dan mengambil bahagian dalam projek LCCS anjuran KAOG supaya 'Bersama Kita Membina Kehidupan' dengan menjadi satu saluran berkat kepada keperluan komuniti kita.
Mari dan menderma satu pint darah dan menyelamatkan 3 nyawa!
Anda layak menderma darah jika:
Kamu adalah sihat.
Umur antara 18-60.
Melebihi 45 kg.
Mempunyai tidur yang mencukupi (5 jam) dan tiada rekod medikal.
Sudah makan sebelum menderma.
Tidak terlibat dalam aktiviti-aktiviti yang berisiko tinggi yang akan membawa penyakit yang berjangkit.
Dermaan darah adalah 3 bulan yang lalu.
Bukan mengandung, menyusu atau datang haid.
Tidak berada di United Kingdom untuk tempoh 6 bulan di antara 1980-1996.
Tidak tinggal di Eropah melebihi 5 tahun.
Dafter diri untuk derma darah di: https://forms.gle/wdKF8qgwccFBYdCE9
Sila bawa kad pengenalan atau paspot asli pada waktu pendermaan darah.
UCAPAN RIBUAN TERIMA KASIH UNTUK SOKONGAN ANDA!
AJK LCCS
Untuk sebarang pertanyaan:
Roland: 0192866338 KC: 0123930647